Regular price
$297.00 USD
Regular price
Sale price
$297.00 USD
Unit price
per
Sale
Sold out
Product Description
Nature is the ultimate purification system and nothing cleans the air as well as a naturally-occurring thunderstorm - until now. By using technology specifically developed to work like a thunderstorm, the O3 PURE has become one of the most advanced air purification devices on the market. Years of research and testing have gone into the development of the O3 PURE in order to create an air purifier that stands alone in superiority. In a matter of minutes, it can eliminate unpleasant smells from mold, fumes, toxins, particles, in any area of your home (up to 4,000 square feet). By utilizing 7 methods of purification, you could work to alleviate your allergies that are caused by smoke, dust, mold and mildew odors just as the Earth naturally does with a thunderstorm. Think back to the invigorating air you've taken in after a thunderstorm. How would you like to experience that feeling every day in your own home? Try the O3 PURE today and experience true purifying power. Added features include a cleanable HEPA Filtration System, Photo Catalytic Oxidizer and additional Catalytic Filter, Activated Charcoal Filter, Prefilter, positive ion, safe oxidizer and hydro-peroxide generation, fixed 6.5 DC needle ion generator, replaceable purification plates.
Features:



Activated Oxygen (Ozone) - Helps Reduce the Pollution in the air similar to the way a thunderstorm cleanses the outside air and is generated by a replaceable (only needed if damaged) purification plate.
Anions (Positive and Negative Ions) - Causes Air born particles to cling to one another until they become so heavy they fall to the ground, effectively removing them from the air we breathe.
Wind / HEPA Filter - Causes air to come into the machine where air born particles are trapped by the inexpensive cleanable HEPA Filtration System, air passes by the Ultra Violet Bulb, and Activated Oxygen is blown into the room to help reduce pollution.
2 Ultra Violet Lights
Fixed 6.5KV DC needle ion generator - Produces more ions to pull dust and particulates out of your air.
Exclusive Photo Catalytic Oxidizer (PCO) - Creates hydro-peroxides, super oxide ions, and safe oxidizers, further reducing odors and airborne contaminants.
Exclusive Sleep/Timer Settings - Supercharges and scrubs your household air and surfaces while you are away from home.

 
This 7-mechanism system helps reduce not only pollution from the air, but also reduces pollution embedded in walls, ceilings, floors, carpets, furniture, clothing, and on countertops and other surfaces. The O3 PURE is virtually maintenance free and is ideal for any home where airborne and surface pollution may be present.

O3 PURE Specifications:

Weight: 14 lbs.
Dimensions: 12.5 H x 9 W x 12.5 D
Electric Cord: 6 ft. (18 Gauge) 3 prong grounded cord
Voltage: 110v
Fan: 5 Speeds
Coverage Area: Up to 4000 square feet
Anion Feature: Fixed 6.5 KV DC needle
UV Feature: Uses Duel UV lights to scrub air passing through unit. Work in conjunction with Photo Catalytic Filter to passively break down chemicals in the air
Purify Feature:  Ozone Generator (0 to 360 mg. per hour)
UV Lamp: Replaceable
HEPA Filter: Vacuumable
Purification Plate: Washable
Display: Digital Clock and Timer
Controls: Front panel, wireless remote and master power switch
Share
View full details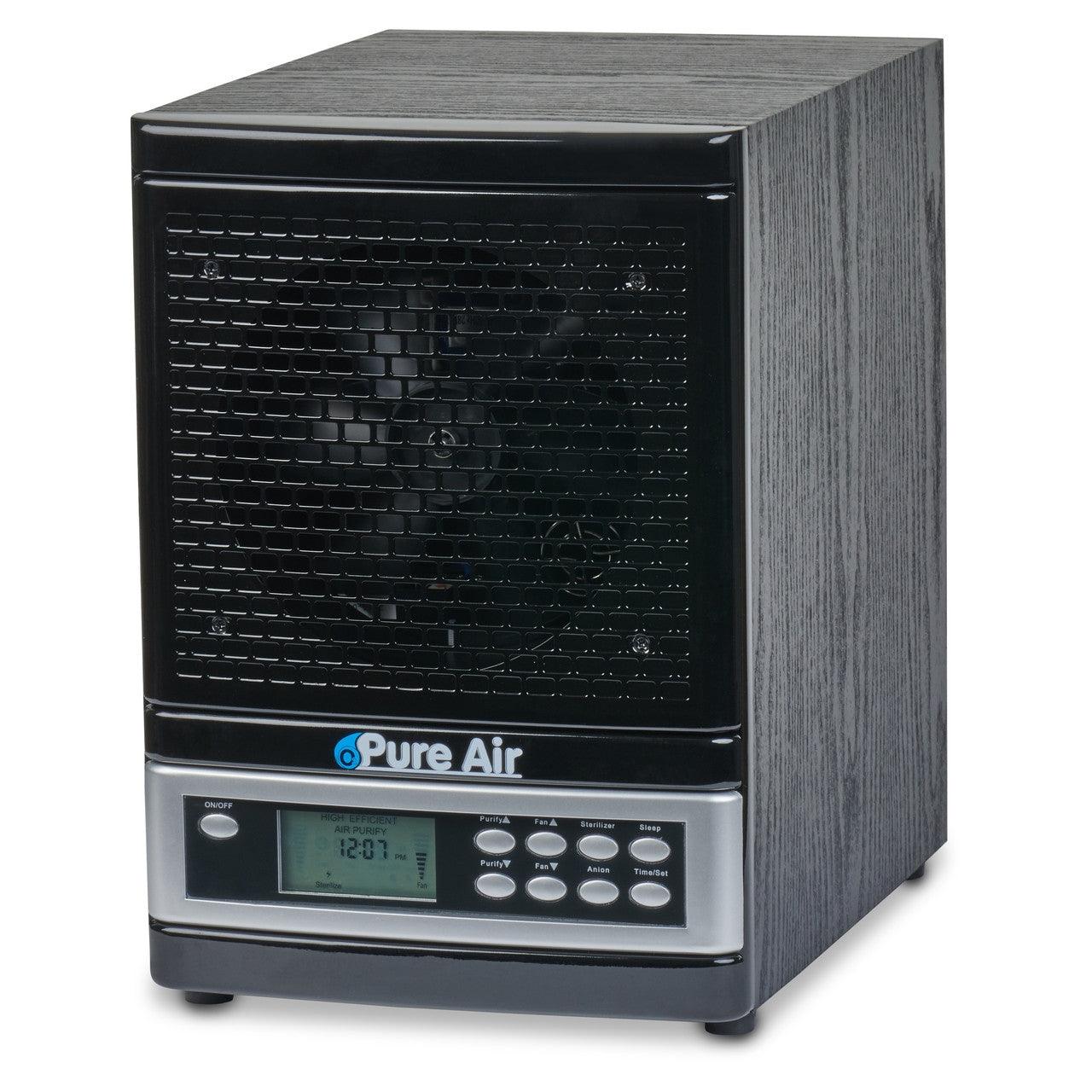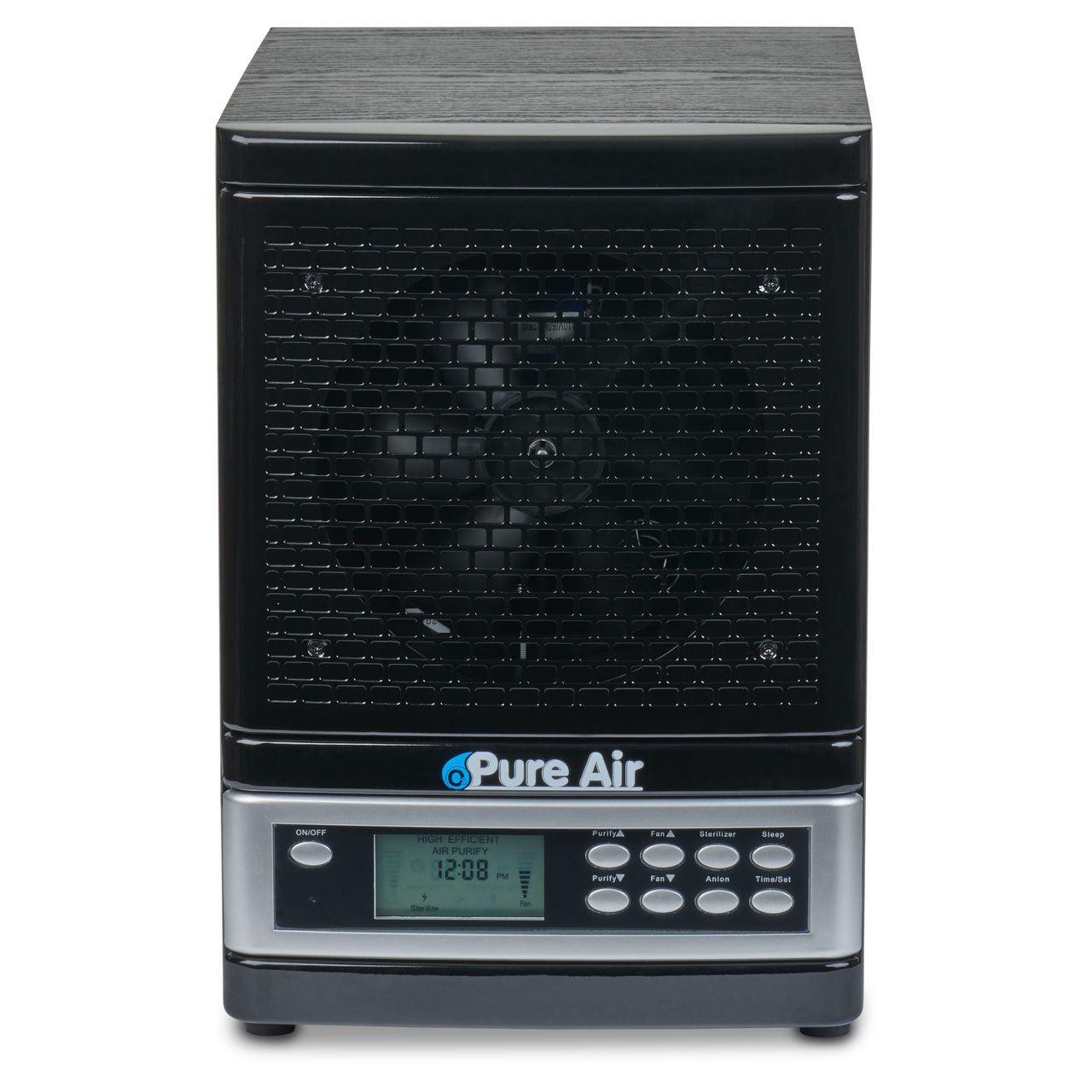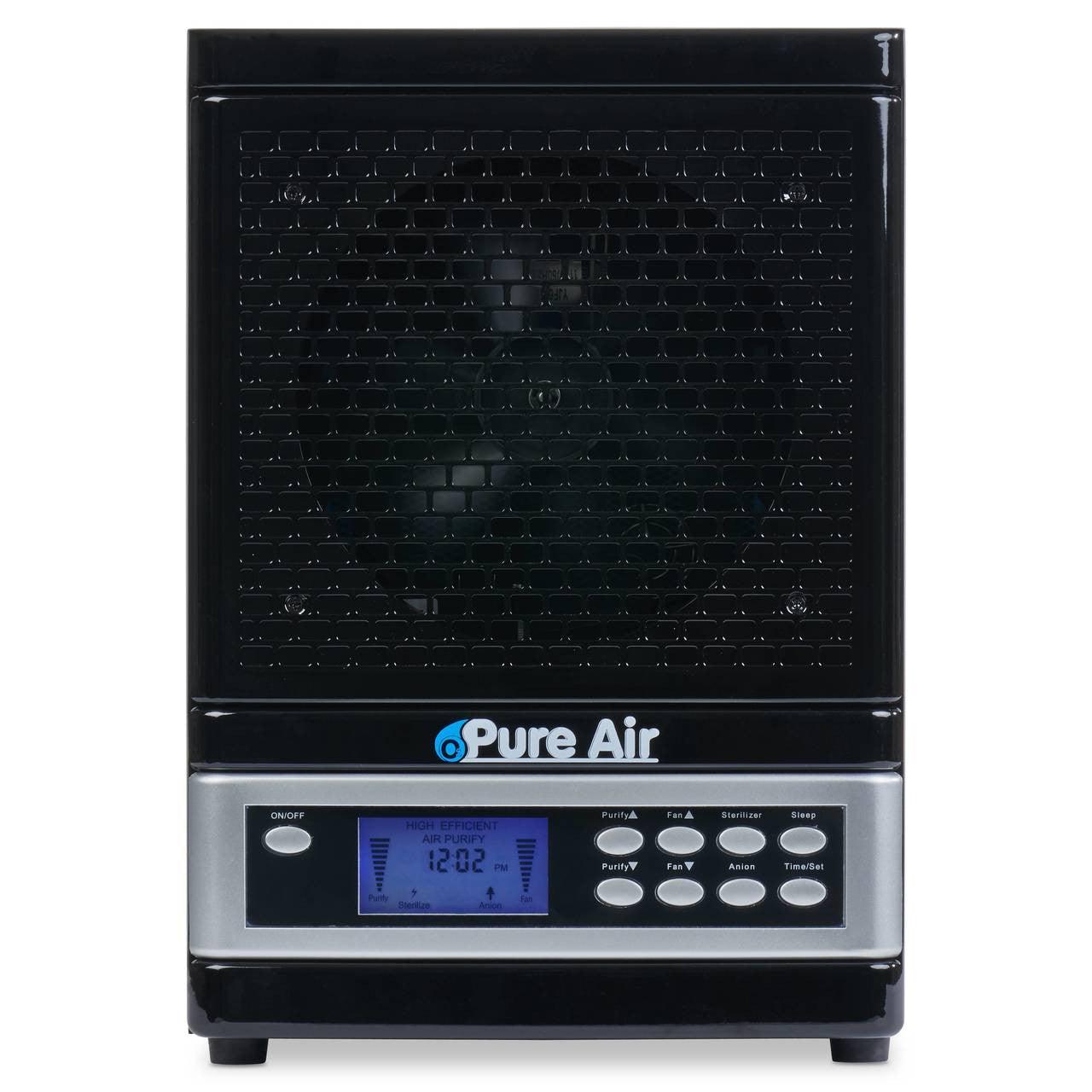 Always loved mine
Second one now mind you the fan motor went out on me 3 weeks ago had to get another. Got a fan motor laying around?.
air purifier
This is the second time I have bought an air purifier from your store. It arrived quickly!
very good, very helpful, great product...
Feedback
Love the product and response time to inquiry on billing was faster than expected!
Best airfilter on the market!
I have purchased several air cleaners including a couple of yours but this filter is the best you can buy to clean your home's air. Easy to clean too.